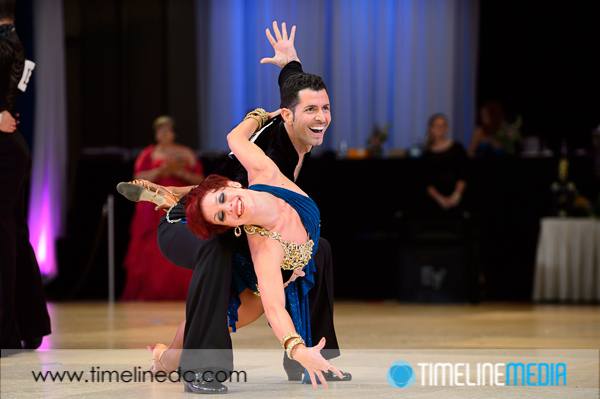 On this occasion, I wanted to post more of my favorite ballroom dancing photos. These were at the American Star Ball held at the Golden Nugget in Atlantic City, NJ. Comparatively, this is a beautiful ballroom for dancing. In fact, this is likely the longest ballroom that I cover. With this in mind, you can really separate the dancers from the background.
Additionally, this room has a tall ceiling. Similarly to the aspects of the long room, a tall ceiling will also blur a background when the dancers are closer to my position. As can be seen in the photo above, the ceiling elements are nicely blurred. The theater lighting, the chandeliers, and the cloth added to the ceiling do not distract from the dancer forms.
While working on updating my marketing materials, this photo above was chosen to be printed. Being that this is the American Star Ball, the predominant Red, and Blue tones in the dresses matched appropriately. This year's event will be May 17 – 19, 2013. Check out other photos from the event from this previous post. Have a great weekend!
TimeLine Media – www.timelinedc.com
703-864-8208