I am gearing up to photograph another ballroom dance event tomorrow. In looking at my gadgets and workspace, I see a lot of influence from my father. I shoot Nikon cameras. My first SLR photos were taken with his Nikon F2 and Nikkor lenses. I recently found two silver (strange since they are usually gold-colored) boxes with some fast glass. Amazingly, they work with the newest digital cameras from Nikon, so I use them for personal shoots – just for fun.
Photography Influence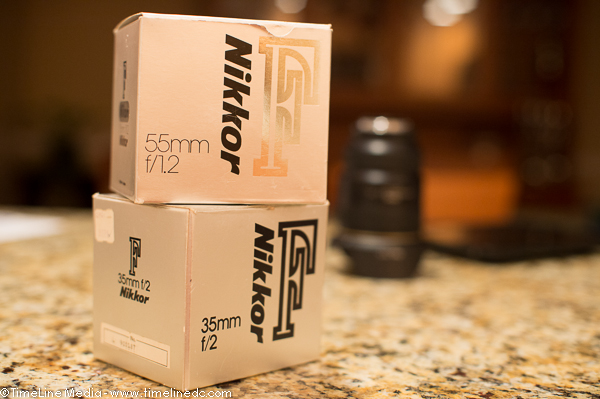 For video these manual focus lenses have especially solid focusing rings for using with moving images. Today, I was looking around my old photos, and saw a snap shot I took of my dad's work space some time ago. He was an architect that worked at home much of the time I was growing up. He looked after me while doing his projects for clients. There are some stark differences with my work area now – no computer, printer, actually no major technological electronic appliance to be seen in the photo! He has many source books of construction codes and supplies. Additionally he has an old hard hat he used when visiting construction sites.
Architect Work Area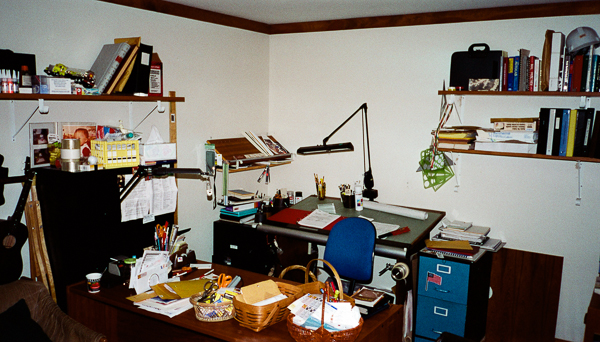 Of course, he has the tools of the trade he used to design buildings out of blank sheets of paper. Pencils, pens, rulers, green templates for shapes – from these he designed the house that I lived in since high school before leaving for college.   I definitely did not appreciate what these designers like him do, I just admired the way that he could see perspectives, and put them on paper. He could have an idea in his head, and put them to paper. As an exercise he would quiz me on differentiating between models of planes as they came in for landings. He would point out differences between 737's, MD-80's, or Fokker-100's.
If not at the airport, he would examine shoes at a store and tell me why he thought one design was better than the next (he was Filipino after all). And if he was dancing, he would show me and my mom why the Cha Cha was the best dance – the best songs on an album had a Cha Cha beat, and there are lots of opportunities for moves to do on the floor. Geez, I am my father's son.
TimeLine Media – www.timelinedc.com 703-864-8208