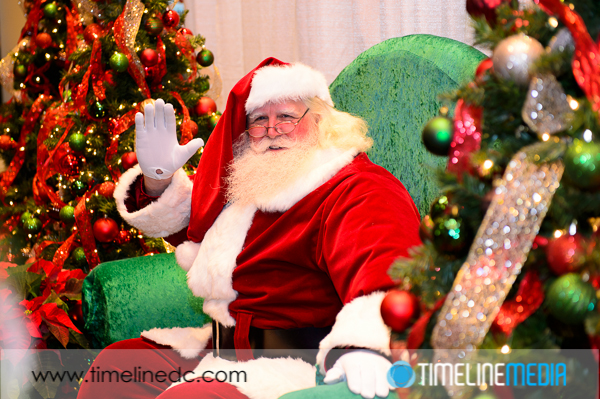 The wintry weather started in earnest the day of the Santa Breakfast at Tysons Corner Center. The early-morning event was well attended by many kids and parents. Who wouldn't want the chance to see Santa Claus just before Christmas?
The mall was still decorated with lots of colors for the holidays. Adding to the scene were face painters, balloon makers, and other performers to keep everyone in the holiday spirit. All of these made for some great holiday photos. Santa arrived by train, then he sat in his chair big enough to fit him and children with the Christmas wishes on the ready. I had a really great time taking photos of the whole scene – the lines were long, but everyone did their best to get everyone their holiday treats, and time with Santa.
There was also an appearance and show with the Funny Little People. Santa got a break, and was front and center for the performance. They sang Christmas carols, and some unexpected songs thrown in too!
At the end of the breakfast, Santa headed off to his normal spot in the mall for photos. It has been a busy season for him – so many children to meet, and so many wishes to remember! The next holiday event on the calendar was the opening of the German Christmas Market. Today is the last day, so head out there to shop in the popular European outside marker. The weather looks great today!
TimeLine Media – www.timelinedc.com
703-864-8208